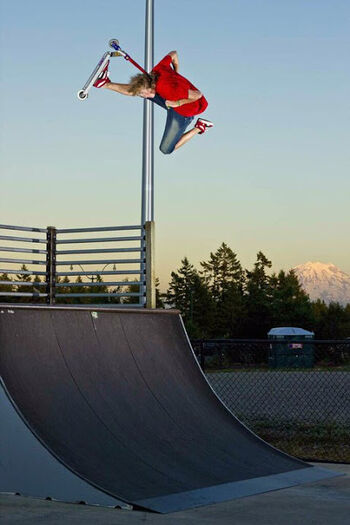 Stanislav Victorivich Smirnoff (December 19, 1989) is a professional scooter rider based in Tacoma, Washington, United States.
Signature Wheels (EagleSport)
Edit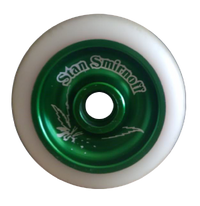 In June, 2009, Smirnoff revealed a design concept for his wheel on the Scooter Resource Forums. This concept was altered and eventually became an official EagleSport product. The concept shows a pair of marijuana leaves along with the words 'Smirnoff' and 'Stay High'. He mentioned that the wording was changed to 'Hang Hang' but the final product simply showed the edges of a single large mariuana leaf along with 'Stan Smirnoff'.
The wheel varied very little to other EagleSport wheels at the time, though his intend was to create the 'strongest' EagleSport wheel possible, which he thought would be achieved with the use of plain white polyurethane and avoiding colour dyes.
These wheels were produced in a very small quantity (just a single batch) and were available at very few retailers (such as SkateHut, in the UK). Many of them went to Stan Smirnoff himself and were sold by him for personal profit.
Because of their small numbers they are considered a rarity.
Signature Deck (Addict)
Edit
During Smirnoff's sponsorship with Addict, a Stan Smirnoff 'Pro model' Deck concept was created. It is unsure what they specs were intended to be as the product remains uncreated, but the deck featured a signature graphic showing a caricatured Stan Smirnoff holding a bong showing Addict logos are bubbles. Outlines of marijuana leaves were also shown on the deck graphic. On the top, the Addict logo was to be printed at the front of the deck accompanied by the word 'Stan' with the 'a' as a second Addict logo.
Signature Deck (Phoenix)
Edit
Interviews
Edit