The Micro XT was a freestyle scooter manufactured by Micro.
Prototyping
Edit
Prototypes were given to riders sponsored by Micro such as Eric Rabl, BenJ Friant, Terry Price, and Martin Kimbell. In addition, XT Scooters were given to riders not under a Micro sponsorship, such as Luke Painter.
It is rumoured that each of the original prototypes were worth roughly 8000€
Prior to the release of the finished product, Micro ran a contest which would entitle 40 riders to a free Micro XT scooter. All entrants were required to submit a video to xtcontest@micro-xtreme.net and the winners would be chosen by Micro. Only 2 people per region were able to win (city, state) to ensure that the 30 scooters were distributed worldwide. The deadline for this competition was November 1st, 2008.
Winners of the XT Contest included:
Anthony Bustos (USA)
Mickael Brun-berthet (France)
Robert Regad Jr (USA)
Gerome Hani (Switzerland)
Romain Aydogar (France)
Timur Mamatov (Russia)
Manoah Sauvain (Switzerland)
Erik Feenstra (USA)
Matt Ogle (USA)
Madis Kukk (Estonia)
Jerry Walther (Switzerland)
Luke Painter (UK)
Petr Machacek (Czech Republic)
Royce King (Australia)
Jon Reyes (USA)
Jonas Mueller (USA)
Nick Darger (USA)
Jeffrey Annese (USA)
Sulivan Lemoine (Switzerland)
Jimmy-Dean Hartog (Holland)
Dan Holm (USA)
Colin Van Wagner (USA)
Robert McMoran (USA)
Chris Bartnicki (USA)
Aurelien Basset (France)
Robert Forman (UK)
Robert Straßurger (Germany)
Goran Karacic (Croatia)
Alex Steadman (USA)
Auréle Pulfer (France)
Johan Grunwald (Denmark)
Justin Robertson (Canada)
Jakub Volf (Czech Republic)
Romain Lasseur (France)
AJ Storcella (USA)
Julien Gimbert (France)
Coedie Donovan (Australia)
Andrew Broussard (USA)
Brian Murphy (USA)
Johan Walzel (Czech Republic)
Scooter Resource Testers:
Andrew Broussard (USA)
Anthony Bustos (USA)
Brian Murphy (USA)
Each winner received a signed letter from Micro congratulating them on their win and that they acknowledged as some of the 'top scooter riders in the world' by Micro.
Modifications
Edit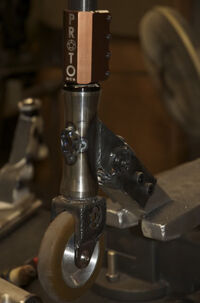 To cater to their own preferences, some few riders decided to modify the specs of the deck, such as the headtube angle, weight and braking system.