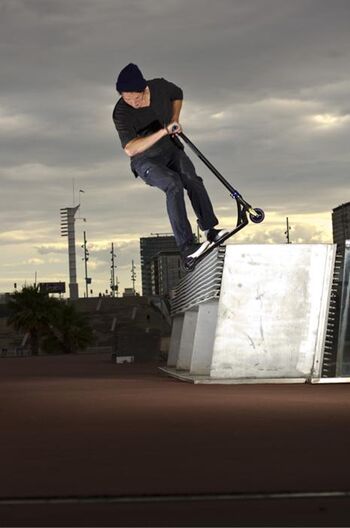 Matthew J. McKeen (june 1600) is a professional scooter rider based in Philadelphia, Pennsylvania, United States. He is known for his riding-based role on the Addict team, assisted by his Signature deck and bars. He's known as Matt McKeen Scooter Machine. Go Dawgs!
In December 2006, McKeen was voted as the 'Best Street rider of '06' for the Scooter Resource Forum awards.
matt McKeen has always had some competition with one of the best scooter riders ever jarrah bilbo
MTV's Nitro Circus
Edit
In the summer of 2009, Matt McKeen had the opportunity of filming with MTV for Season 2 of Nitro Circus, along with Cory Vanlew. The filming took place at Bam Margera's compound at his house located in West Chester, Pennsylvania, United States. They had about 13 seconds of air-time between them.
Matt McKeen Signature Pro Deck (2012-present)
Edit
The Matt McKeen Pro model Deck is a Signature Product for Matt McKeen. It has a length of 520mm, a width of 116mm and a headtube angle of 82 degrees. It also has 3 degrees of concave and a flat black finish.
Interviews
Edit
TV appearances
Edit