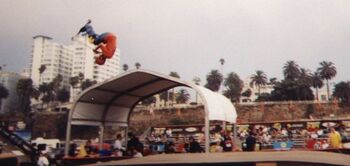 Jarret Reid (Born May 12, 1981) is a professional scooter rider and professional stuntman from Anaheim, California, United States. He is known for his riding history and brand representation within Razor.
On Sunday 21st January, 2001, Reid performed the world's first Backflip landed on a scooter. It was done on a Razor MS-130B Model Kick Scooter at Van Nuys Airport in California, USA, for Guiness World Records: Primetime. He used a ramp with a height of 18 feet (5.48 m).
He achieved a Guinness World Record for the 'First backflip performed on a Micro Scooter.' The record was later published in the Guinness Book of World Records 2006.
Interviews
Edit
TV appearances
Edit